Monitoring visit by Biovision Africa Trust (BvAT) to Rwanda Organic Agriculture Movement under the Ecological Organic Agriculture Initiative (EOA-I)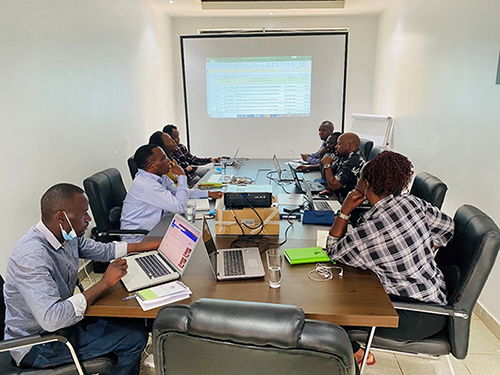 On 25th May 2022, the BvAT team represented by Dr. David Amudavi, Executive Director of BvAT, and Ms. Venancia Wambua, EOA-I Project Manager had a monitoring visit to ROAM, the Country Lead Organization of the EOA-I project in Rwanda. The main objective of the visit was to receive progress updates of the EOA-I project from ROAM and its implementing partners in Rwanda. Other partners implementing the project are University of Arts and Technology of Byumba (UTAB) focusing on research and applied knowledge, Huguka Organization focusing on Information, Communication and Extension. Pride farms company focusing on the Value chains and Market development pillar.
In his opening remarks, Dr. Amudavi mentioned that the meeting was an opportunity for the BvAT team to receive updates of project progress implementation, learn of success stories and of challenges being addressed and as a team discuss ways to address them.
Ms. Venancia in her opening remarks appreciated the support from ROAM in steering the EOA agenda in Rwanda noting their growth since the project was officially rolled out in Rwanda in 2018. In her opening remarks, CEO of ROAM, Ms. Lise Chantel welcomed the BvAT team and appreciated their visit. She acknowledged the coordination, guidance, and support from BvAT since 2018 and mentioned that the level which ROAM has reached so far has been possible through the support of BvAT through different funds and in terms of ideas.
The goal of EOA-I is 'Mainstreaming Ecological Organic Agriculture (EOA) into National Policies, Strategies and Programmes in Africa'. EOA is a continental effort implemented under the guidance and oversight of the African Union (AU) chaired Continental Steering Committee (CSC). It is designed to establish an African organic platform, based on available best practices and to develop sustainable organic farming systems. Under its Phase II (2019-2021) of implementation, the project is in 9 implementing countries of Kenya, Ethiopia, Tanzania, Uganda, Rwanda, Senegal, Nigeria, Benin, and Mali under the funding support from Swiss Agency for Development and Cooperation (SDC) in which Biovision Africa Trust (BvAT) is the Executing Agency.
Specific objectives to which the partner activities are supposed to contribute :>
1) To avail information and knowledge needed by EOA value chain actors through demand-driven, multi-disciplinary, gender sensitive, participatory research, and repositories.
2) To enhance adoption of EOA technologies and practices through systematic dissemination of research and experience-based information, knowledge, and training of value chain actors.
3) To substantially increase share of quality organic products at local, national, regional, and international markets through value chain development and market strengthening ; and
4) To enhance structured management and governance of EOA through coordination, networking, advocacy, multi stakeholder platforms and capacity building leading to positive changes in agricultural systems in Africa.
ROAM presentation to the BvAT team summed up the status of annual report 2021, challenges and remedial action, work plan and budget for 2022 (Planned annual targets for 2022) and the status of activity implementation for 2022. ROAM and its partners under EOA-I is promoting the strawberries and pineapple value chains.
Among the Pillar 1 activities (implemented by University of Arts and Technology of Byumba (UTAB) presented included a baseline survey conducted to identify knowledge gaps needs and priorities of value chain actors for strawberry and pineapples. (333 farmers was sampled) 82 and 251on strawberry and pineapple value chain respectively where 58.9% were female and 41.1% male. The study showed that farmers lack information on farming technics, particularly mulching practices, and the study recommended EOA practices like mulching with mucuna for pineapple and intercropping practices for strawberry. Pillar 2's project activities (implemented by Huguka organization) presented updates of activities undertaken that included the development and translation into Kinyarwanda a training module on general information on organic agriculture using existing platform (Infonet-biovision, Africa training manual).
Pillar 3 (implemented by Pride farms) reported to having organized a mini exhibition that was attended by 12 farmers growing strawberries in one cooperative in Muhanga district, the southern part of Rwanda.
Among the Pillar 4 (implemented by ROAM) milestones presented included the high-level stakeholders meeting organized in partnership with University of Rwanda, United Nations Development Programme/ Small Grants Programme and Nile Basin Development Forum (NBDF). The overall goal of this meeting was to present the results on the status of organic agriculture in Rwanda from the study conducted by University of Rwanda on Agro-ecology/ organic and it was attended by governmental institutions where the meeting was officially opened by the state minister in the Ministry of Agriculture, academia, civil society, private sector. From this meeting a policy brief was developed.
Among the challenges presented included Covid 19 pandemic that drastically slowed down implementation in Rwanda due to travel and meeting restrictions. Other administrative challenges included use of project funds for activities not approved within the workplan and budgets, delays in reporting and release of funds among others. Strategies to address the various challenges were also discussed especially during the unpredictable Covid 19 period. Partners were urged to get innovative ways of implementing activities especially the use of technologies like social media platforms, mobile apps, websites, and use of media to disseminate and implement activities.