STAKEHOLDERS' WORKSHOP ON SELECTION OF VALUE CHAINS TO BE FOCUSED ON FOR THE DEVELOPMENT OF DIGITALIZED TRAINING MATERIALS FOR FARMERS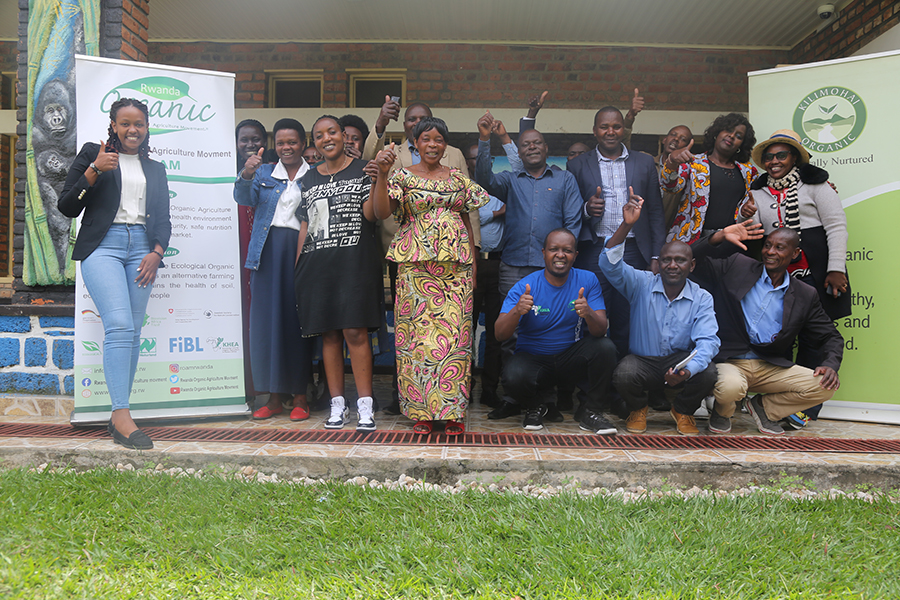 On 23rd January 2023, Rwanda Organic Agriculture Movement (ROAM) organized a stakeholders' workshop on value chains selection which took place in MUSANZE district, Northern Province at Centre Pastoral Notre Dame de FATIMA. The objective of the workshop was to select value chains in collaboration with different stakeholders and value chain actors (Farmers, Processors, Local authorities, Retailers, Restaurants, Centers of excellences, Research institutions Etc…) to be considered in the development of digitalized training materials for farmers. The workshop was financially supported by the Research Institute of Organic Agriculture (FiBL) and it was attended by 22 participants.
In her opening remarks the ROAM/CEO welcomed all the workshop participants in her speech, she commended continuous effort of value chain actors in the promotion and development of organic sector in Rwanda. She urged them to increase the production of organic products in volume and quality by complying with organic market requirements (National, regional and international markets ) and to achieve food security and safety. She requested participants to select value chains with high demand at the market, that can contribute to increased income for value chain actors, with growth potential and that contribute to the protection of environment. The participants were updated on the current project on digitalization of training contents for farmers implemented by ROAM with the support of FiBL. She concluded by wishing participants a fruitful workshop and good deliberations.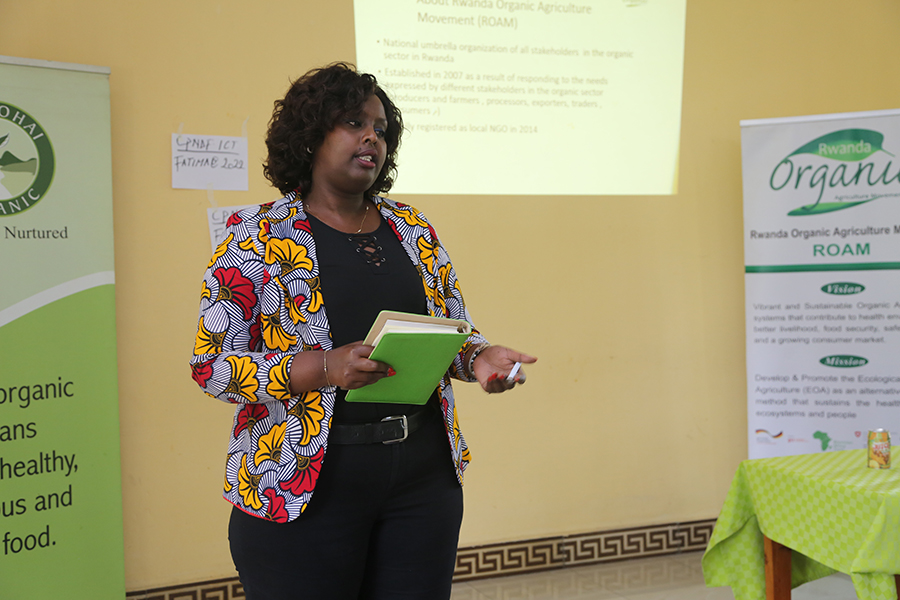 CEO/ROAM, Lise Chantal DUSABE giving her opening remarks
A presentation on value chain selection was made where participants were informed on different selection criteria and key steps to follow. The criteria include the unmet market, growth potential, potential engagement of MSMEs (Producers, wholesalers, retailers, processors, logistics,) for the success of value chains. In addition, value chains that can contribute to job creation, environment protection are prioritized while selecting. In the value chain selection process, it is important to brainstorm on possible value chains that comply with the criteria mentioned above.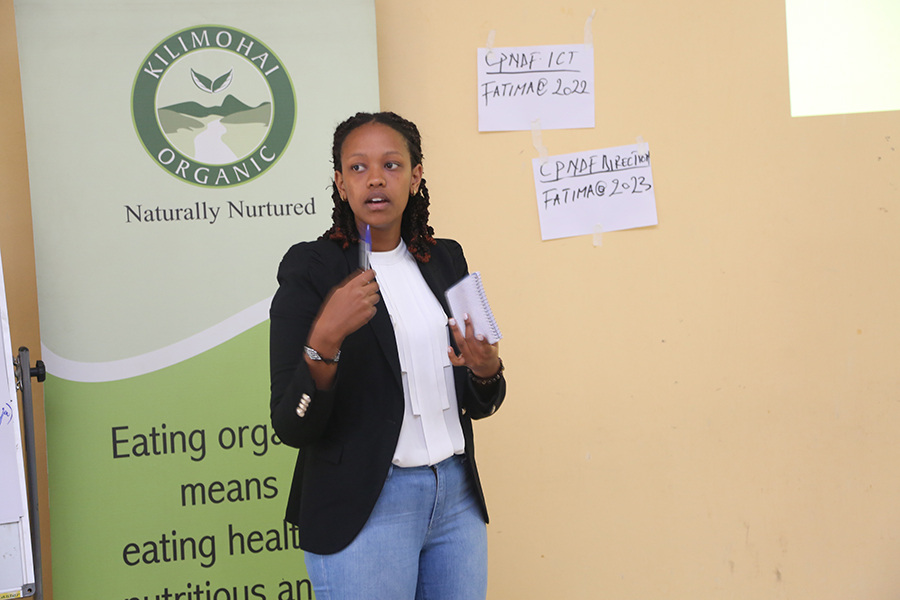 Ms Jennifer,ROAM/M&E Officer presenting on the value chain selection process and criteria of value chain selection
After brainstorming on potential value chains, participants were grouped and guided in the selection process and six value chains were selected including avocado, pineapple, strawberry, Irish potatoes, poultry and maize. The next step will be for ROAM, FiBL and project partners to develop the digitalized content based on selected value chains which will be disseminated to different stakeholders mainly farmers and multipliers to improve their skills and knowledge in production of organic products and livestock.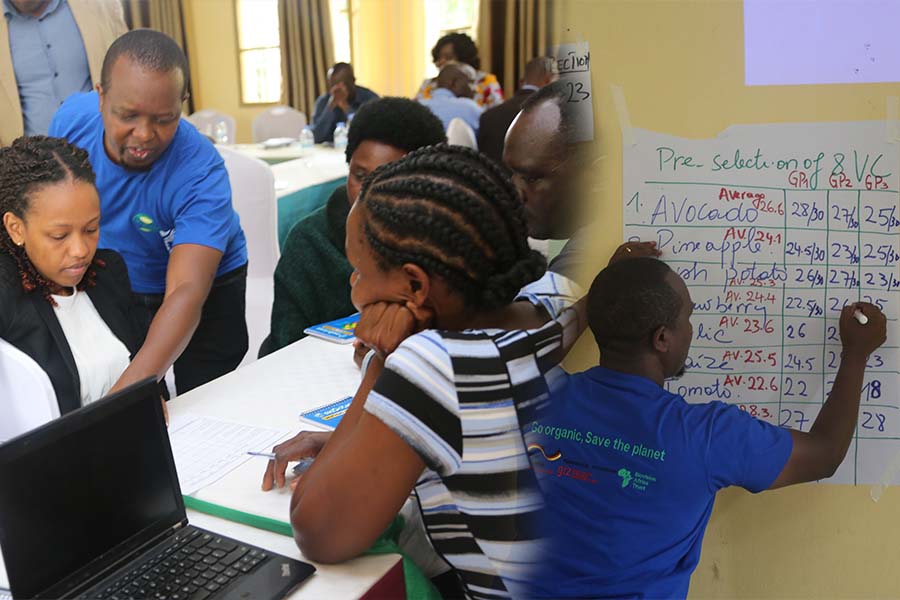 The selection of value chain was done in groups considering set criteria and then were ranked per percentage
The Director of Agriculture in MUSANZE District jean NGENDAHAYO who represented the Mayor of Musanze district commended ROAM efforts in the promotion of organic sector in Rwanda and appreciated the selected value chains as they are among the ones which are promoted by Musanze district particularly avocado value chain. He encouraged ROAM to establish a collaboration framework with the district in the promotion of organic agriculture as it complements existing practices promoted in agricultural sector.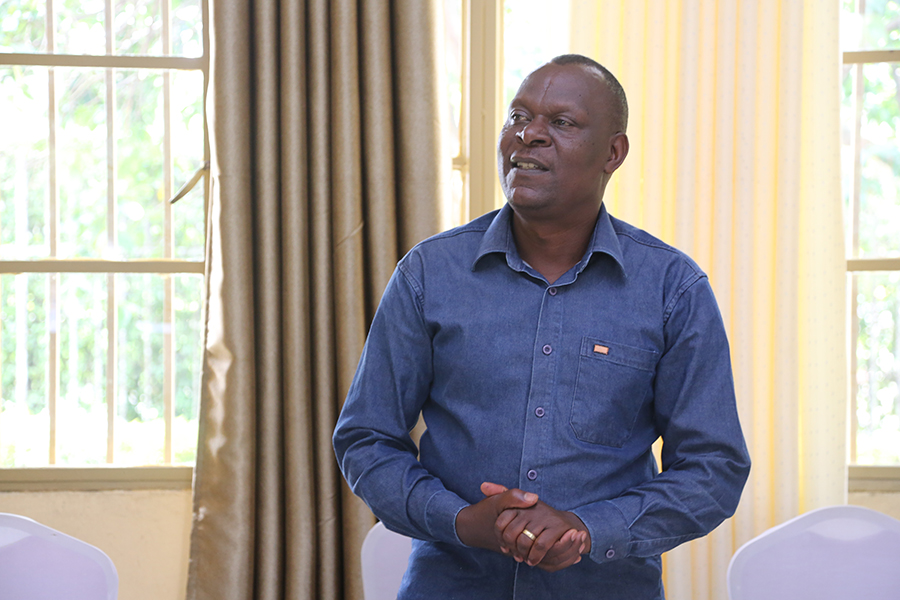 The Director of Agriculture in Musanze District, giving his closing remarks